Raising Visibility for Women-Led Businesses Is Vital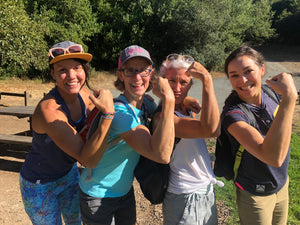 At Mana Threads, we value and strive to recognize the growth and accomplishments of our fellow women entrepreneurs and the vital contributions they make to our economy.
From design to production to marketing and fulfillment, we work with women-led businesses to deliver our products.
Why?
Because when we support women in business, everyone benefits.
That's why we participate in vital movements like Women-Led Wednesday and Title Nine's Movers & Makers Pitchfest.
Networking with other female founders and working collaboratively alongside them has allowed us to hear about the incredible successes and grit found in women-led businesses. It has also allowed us to hear the challenges that many women entrepreneurs face.
Cassie Abel, Wild Rye co-founder, is spearheading Women-Led Wednesday, a new annual shopping holiday (think Black Friday, Cyber Monday) with the goal of uplifting women-led companies.
"This is about more than just closing the pay gap—it's about the health and productivity of the workforce in general," says Abel in a recent press release. "I believe that more women in leadership equals more role models for young women just starting their careers. The more role models, the more inspired women entrepreneurs and leaders."
As the holidays approach, what are some ways you plan to support women-led businesses?
To learn more about Women-Led Wednesday, visit their directory here
Read about our recent win at Title Nine's Movers & Makers Pitchfest here
---
---