Movers & Makers together with #ishopsmall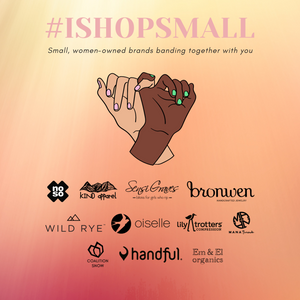 We are thrilled to announce our latest initiative with our Title Nine Movers & Makers crew, #ISHOPSMALL. 
"As our daily lives have changed drastically over the past few months, one thing has remained constant and resounding: our friendships. Through the Title Nine Movers & Makers initiative, we have built a strong community of small, women-owned brands who show up for each other when we need it the most. We want to see each other succeed through this pandemic and beyond. That's why we're excited to introduce you to our friends who've been there for us as we've shared some of our highest highs and lowest lows."
Now more than ever, it is important to support the small businesses that make-up such a vital part of our country and our women-owned. 
Together, we have created a universal discount that can be applied at checkout with any of the brands listed below.
Discount Code: ISHOPSMALL
This discount code is good for an entire week between May 18th - May 25th, 2020. The discount ranges between 10-25% off, dependent on the brand.
At Mana Threads, we are offering 20% off our Sol Dress with the code ISHOPSMALL
We are so honored to be apart of this amazing community we call Movers & Markers. Below is the list of brands that are taking part in this initiative. Be sure to click the links below to see what brands are offering what discounts.
Noso Patches | Lily Trotters Compression | Kind Apparel | Mana Threads | Sensi Graves Bikinis | Coalition Snow | Bronwen Jewelry | Handful | Wild Rye | Em & El Organics | Oiselle
With love and passion,
Mana Threads
---
---