Mana Threads Essential Worker Appreciation: Carol Blattspieler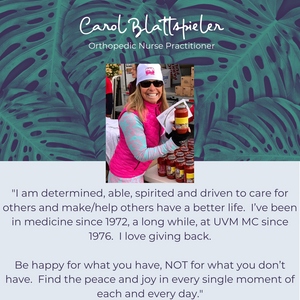 Every Tuesday, Mana Threads will be highlighting some of the essential workers within our Mana Threads community. These ladies are courageous, hardworking, selfless, and inspiring. Read more about our Essential Worker Appreciation program here.

This is Carol Blattspieler's story.
Who are you and what do you do for work?
An orthopedic nurse practitioner, professor at UVM in the graduate NP program, endurance athlete (training for Ironman #6…sometime in the future, was supposed to be July 26, 2020 IMLP), mom to two GREAT kids. I am determined, able, spirited, and driven to care for others and make/help others have a better life. I've been in medicine since 1972, a long while, at UVM MC since 1976.  I love giving back. 
Tell us a little bit about yourself, outside of work.
Outside of work, I do Ironman triathlons and love to travel.  Biggest athletic accomplishment (actually two biggest):
Learning to swim at age 30 after almost drowning as a little kid  …HUGE FEAR OF WATER

Winning the National Ironman Championships for 50-54 age groupers at IRONMAN LAKE PLACID in 2005.  It truly changed my life.  I know I can conquer and survive and master most anything I try with grit/training/desire!  I've raced in Kona at the WORLD IRONMAN CHAMPIONSHIPS twice, qualifying 3 times.  I love the journey/training way more than the racing.
What has been the hardest part of being an essential worker and working on the frontline during COVID-19?
The hardest part of being an essential worker is my own fear of developing COVID 19.  I am 66 years young and in the HIGH-risk group. I want to help others but not at the risk of my getting sick or me spreading the sickness to others/loved ones. 
What has been the most rewarding part of being an essential worker and working on the frontline during COVID-19?
My rewarding part; being with family and finding peace by myself. 
Name three things you can't wait to do once states open back up?
Swim in a pool/train

See my 25-year-old son and hug him (he's in Maine) with my grandmother

See my 20-year-old begin to have a social life; she's been quarantined with two old people and needs the youngsters to laugh with.
What is one thing you would like to share with everyone? 
I would like to share that I know life can be short and it's critical to seize the day and make the most of it.  People think I am a huge extrovert, but I have a huge introvert side of me working on mindfulness, being alone, savoring the quiet and ripple of the water on the beach.   Be happy for what you have NOT for what you don't have. Find peace and joy in every single moment of each and every day. 
____________________________
Show your appreciation with us
Mana Threads created a virtual thank you card for all of you to be able to personally thank them. Giving thanks, along with words of encouragement, helps them stay strong while they continue to help this country and everyone in it. 
We hope you join us in celebrating the essential workers within all of our communities. 
Thanks again for supporting Mana Threads and our Essential Workers. 
With love and passion,
Mana Threads
---
---