Introducing Mana Threads Essential Worker Appreciation!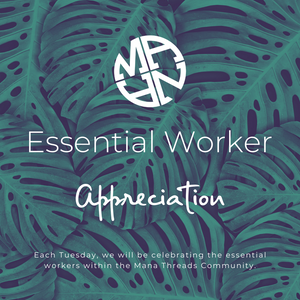 Essential workers deserve a lifetime of recognition, and did you know that more than half are women?? When we found that out, we decided to take action and support our women-led community here at Mana Threads that are essential workers. We picked 50 essential workers from our community to highlight their stories, send them a homemade Mana mask and scrunchie, along with a 20% discount as a small token of our appreciation. We also created a little something for YOU to join us in appreciating the essential workers and helping put a smile on their face. Read the full blog to hear about all the stuff we are doing at Mana Threads and how you can join!
Mana Threads is thrilled to announce that every Tuesday, we will be highlighting some of the essential workers within our Mana Threads community. These ladies are courageous, hardworking, selfless, and inspiring individuals. 
They have been handed a difficult task but are doing it with grace. They continue to show up every. single. day. no matter the working conditions. From their hard work and dedication to their jobs, they are keeping all of us safe and healthy. 
The Story
A couple of weeks ago, we reached out to our Mana Threads community and asked who are essential workers were. Our intension was to highlight a couple of essential workers, share their story, and send a little gift from Mana Threads. We got an overwhelming response and couldn't decide on picking just a few of them. So, we decided to pick them all!
So what is Mana Threads doing exactly? 
For the next couple of weeks, every Tuesday we will be posting a new blog introducing four wonderful ladies that are essential to our community. They were kind enough to send us some words of encouragement, enlightenment, and hope. We will also be dedicating our social media outlets to the essential workers every Tuesday, starting around 7 PM EST, so be sure to follow us at @manathreads.
There's more...
Outside of highlighting our essential worker community, we also donated a handmade Mana Thread mask, scrunchie and offered a 20% discount for future purchases. We will continue to seek out new ways to support them during COVID-19 and beyond. 
You can view our new Mana Threads masks here: 
Show your appreciation with us
Mana Threads created a virtual thank you card for all of you to be able to personally thank them. Giving thanks, along with words of encouragement, helps them stay strong while they continue to help this country and everyone in it. 
We hope you join us in celebrating the essential workers within all of our communities. 
Thanks again for supporting Mana Threads and our Essential Workers. 
Mana Threads
---
---